« Getting Your Work Published In Magazines | Main | Artists Must Learn to Self-Promote! »

I'm in the throes of an identity crisis. This experience is nothing new for me.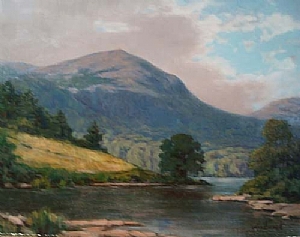 Little Long Pond, Acadia (9x12) oil
I've been reading, "We're all Weird" by Seth Godin. Essentially the book is about how societies around the world are buying "things and stuff" that develop their individual weird taste - and explains why the old ways of mass marketing are completely non-relevant for sales in practically any and every arena. What does this mean for me? The first thing that comes to mind is that my individual (weird) gifts are not those of a full time, passionate artist. I might as well face the truth of the matter. I'm first and foremost- a communicator.
I communicate in a variety of ways, blogs and articles, ebooks, pictures, and in person. I have a passion to help artists succeed - well some artists. I don't like working with egotists who are trollish - but then I don't have time to help everyone anyway.
The good news is that with the Internet, and new ways of "getting the word out", none of us needs to follow the crowd to make a living. In fact, the more unique we are, the easier it will be to build a sufficient following. As artists, we are not factories, and our work will not appeal to the masses. All I need to remember is to be myself, discover and nourish my unique gifts, and go from there.
This morning, as I wrote in my journal, I purposely filtered out the imagined "other" voices/opinions that tend to crowd my mind and thinking. I narrowed down my unique gifts to just 3 things I'm absolutely sure I possess. Even more than "possess", these are things I have a passion for and enjoy, and guess what? A full time artist did not make the list - it didn't even come close!
I feel a lot of outside pressure to be that full time artist. After all, it's been said that if I want to help others market their work and teach them art principles, I ought to, at the very least be a successful full time artist myself. But I had a strange dream last night - it was one of the "waitressing nightmares" that I often have when I'm feeling overwhelmed. I worked as a waitress for 3 years during college, and although I got pretty good at it, I was never great at it because waiting tables requires that I juggle a bunch of details in my head - in essence, multi-processing. My brain has never done this well. The nightmares have changed themes over the years. Interestingly, in the last 10 years, I sometimes decide to quit on the spot and walk out when I realize that the job is not a good fit.
Last night's dream was different than the others. I hadn't started working at the restaurant yet. I needed to make money, so waitressing seemed like a good way to get some extra $$. I met with a group of wait people and the manager the day before my first shift. A few of the faces in my dream were artists whom I know in real life. Then I met with the restaurant "doctor" ahead of time to get some counseling. By talking to her, I realized that I was about to embark on a job that did not fit my best abilities, and I was taking it on for all the wrong reasons. I was doing it because I thought I should, and just for the income. I was not going to be great at it, nor was I going to enjoy it.
I asked the counselor to talk to the manager and ask if she might have a "paperwork" job, so I could work behind the scenes, away from the bustle and confusion of the restaurant, where I might be able to focus on one thing at a time. The counselor advised that I speak directly to the manager, so I expressed this sentiment to the manager, and she looked at me like she thought I was crazy.
However, I had already committed to working at the restaurant and needed to prepare myself emotionally and physically for my first shift the next morning. I felt trapped, feeling like I had made the wrong choice. Refusing to show up would be irresponsible.
I don't recall many of my dreams, but this one stayed with me long enough this morning to write it down. Then I began pondering how the dream relates to my current priorities and obligations. To make a long story - shorter than it could be - I once again came to the realization that my niche does not lie with painting full time. I do enjoy painting, but I enjoy writing, communicating, instructing through images and words, and helping others more than I ever enjoyed "just painting".
These thoughts are not new, but I forget them when I am influenced by other artists and outside pressure to conform. I'm, by nature, a non-conformist. My husband and I had Chinese take-out last night. I don't take my fortune cookie messages as prophesy, but that little piece of paper said something that stuck with me (and probably led to last night's dream). It said, "Be unconventional, even Visionary". I showed it to my husband, and he replied, "That's already you".
I've never followed the crowd or liked to be told by others what to do. I'm a believer in seeking good advice, but while doing what makes the most sense for me. I don't like standard, one size fits all, recipes for success. They often don't work and leave artists feeling hopeless. We all must find our own niche, and build our own following - whether we hire agents to help us or do it entirely on our own.
Who Am I... Really?
I am and have always been a teacher. As soon as I learned to ride a bike, I was helping my non-riding friends learn. I helped them out by describing how it feels, yet not pushing my expectations on them. We all have enough daily pressure to impress, succeed and compete in this world - no one needs a teacher whose ego must be satisfied by the successes of their students. I believe that people are primarily responsible for their own choices, work and achievements... no one else can claim they "made" the artist successful. Sure, we can all help, but only the artist can make or break a career in the end. No gallery, teacher, advisor, or parent is completely the source of an individual's success.
I am a writer... more often than a painter. I know artists who must paint every day. That's never been the case with me. My morning thoughts are written down daily and have been so for 20 years. I have stacks of journals and notes from books I've read and workshops I've taken.
I love to research and learn about a variety of things: Art Marketing, painting, academic art concepts, and trending topics. When I was younger, I'd spend entire days at the library reading about the history of my town, how to prepare a house for sale... you name it. I could never get enough information about the world around me. Today, reading ebooks, online articles and feeding my brain with useful information is pure joy.. It's another part of who I am. Currently, I'm researching, What collectors' want by gathering stats from collectors at various levels.
Lastly, I enjoy drawing and painting. I always have - AND I like detail... I don't want to use a big brush. That doesn't mean I admire work only similar to my own. There are abstract works that have just as much merit as my old-fashioned paintings. I must be who I am, both as a communicator and an artist. Others need to understand who they are , where their artwork fits in, and not be pushed into a style or technique that is not pure joy for them. We're all different. If all artists painted the same way, how boring the world would be.
Conclusions:
My plate is full right now with a variety of projects. If I am to devote my time to one or two, I must leave a lot of stuff on the back burner. Things that I could probably do well, but alas do not have the time to fully explore. Furthermore, I must listen to my own heart and longings - and ignore the agenda that other, well meaning, friends-artists-mentors have for me. It's going to take guts to give up a few things I'm pretty darned good at. However, if I don't focus on what's important, natural and most fun for me, I won't get much accomplished - probably ever. Worse, I'll not be happy.
It's OK to be different. I don't need to read everyone else's stuff, nor do I need to sound, teach, or paint like they do. God has made me an individual, like no other being and has an agenda for me to contribute. The Bible states that if we're all "eyes", then what good does that do for the rest of the body?
In order for me to be really useful, I will concentrate on my natural abilities and personality traits, and ignore the rest. I can assure you, that you will not see me as a full time artist. If I choose that path, I will not have time to do the things that really matter to me: Writing, teaching, helping.
Sincerely,
@loriwords
Sign up for my free art instruction tutorials on this website!
Comments
23 Responses to Identifying my True Niche
Padgett McFeely
via lwsimons.fineartstudioonline.com19 months ago
You are one amazing woman, Lori! You are certainly an inspiration to me in your 'redefining' process - I feel like I too am in the midst of redefining myself.

Most important for me (which I see you doing constantly) is to keep expressing myself as only the creator intended.

I am reminded of Martha Graham and this quote which hangs on the door to my studio (and office):

"There is a vitality, a life force, an energy, a quickening that is translated through you into action, and because there is only one of you in all time, this expression is unique. And if you block it, it will never exist through any other medium and it will be lost. The world will not have it. It is not your business to determine how good it is or how valuable nor how it compares with other expressions. It is your business to keep it yours clearly and directly, to keep the channel open."

You write so beautifully - thank you for sharing so much of yourself with all of us.