« Artist Etiquette | Main | Guest Artists On This Site »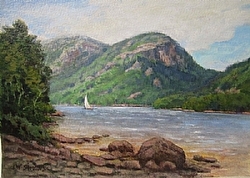 Featured in WC magazine
I've been so busy since I've returned from Tucson that I have not had time to update this webs site, but will do so soon. I intend to feature other artists' work - especially those whose I've collected... as well as add a tutorial about art marketing or painting. I also have to get my next article for Watercolor Magazine finished by the middle of April.

Having said that... any time you can get your work published in books or magazines, go for it. It will encourage collectors to see the worth of your art. So far, I've got my column in Watercolor, authored a Walter Foster book, been featured at the Richard Schmid art auction, etc. When I set up the display of my work either at a gallery or on my own, I make sure I have copies of these publications on a table nearby (saying it is the gallery copy).

Although entering juried competitions is somewhat of a gamble, if you can manage to get your work published online or in a magazine article, you're golden. Even if you don't win $$ for the show, it's a heck of a lot cheaper than placing ads in magazines, and it confirms that other folks in the artworld think your work is of high quality.

Of the artists I know who do enter juried comps on a regular basis, they often get rejected many more times than they get accepted, but it is still worth entering... because you never know...

One causion though... don't bother if you don't think your work is on par with the best entries. Get really good first by intelligent study (maybe a workshop) and tons of practice. Making art is like a sport - you have to practice almost daily to become an expert, and you'll need a good coach as well. I've seen artists gain national status with just 5 years of painting when they give it their all and get sage advice from the best.

I've been learning from videos, and while they're expensive, they are certainly less costly than attending a workshop: My favorites are: Richard Schmid, "June", Morgan Wiestling videos through Lilidahl Publications.
Sign up for my free art instruction tutorials on this website!
Topics:
art magazines
Related Posts:
Comments
1 Response to Get Your Work Published
Christine Harkins
via web50 months ago
I appreciate so much your helping aspiring artists with your articles. I want to read them all.
* indicates a required field