Many of us artists are considering how we'll grow our art business and sales in 2013. In fact, I've been considering big changes since last summer, and I'll share them with you here. My main idea for 2013 is to simplify and focus on a fewer online activities so that I have more time to enjoy creating, life, friendships, and my home.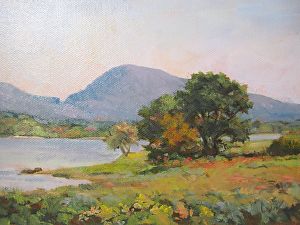 View of The Sound: 6x8 Oil on canvas panel.
Have you ever noticed how life and work tends to change every decade? Since the introduction of social media and Internet, my life has morphed into a daily routine that I never anticipated when I began my art business in the mid-1990's.
Over the past year, I've ordered several online educational modules that have taught me quickly to use Pinterest, Youtube, Facebook, and Google Plus to help my career as an artist and art teacher. Each of these courses is excellent, but alas - I'm overwhelmed by the possibilities and overloaded with information. My poor, aging brain just doesn't want to take it all in, and furthermore, trying to keep up with everything new is making me feel mildly depressed. I'm sure many of you have experienced similar emotions while perusing Facebook or Twitter... where the input, images, and links never end. You start out thinking you'll only spend a few minutes "catching up", and then 2 hours later, you realize that your precious work time has passed you by, never to be regained!
Know what? I started thinking about how social media affects me, and I realize that I have a lot of false assumptions about it. Let me talk about Facebook first. It's addictive, But Why?? Because it makes me feel like I belong. Heck, I can comment to Paul McCartney! In reality, I know that he never reads what I write - just like he never reads the hundreds of other comments, but it feels good to "talk to him" just the same.
When I was in high school, being part of the "popular" crowd never appealed to me. I had several close friends and a best friend, and that was all I needed. I did have a lot of other acquaintances, but they were friendships of convenience... people who were in my class and had something in common for a time. These friends signed my year book, but after I graduated, they faded away. The few who were friends I saw outside of the classroom have remained my friends to this very day. Facebook is a bit like high school, only the difference is that I was required to go to high school. I'm not required to spend time on social media. (but I do spend too much time there)
Choosing A Quiet World
From time to time, we lose power at our house, or else I am out of range of Wifi, and know what? I'm a lot happier and I get a lot more done, Living in Real Time. Over the past several months, I've been spending less time on line and more time moving about in my home, studio and enjoying the outdoors. For the past several years, I had convinced myself that I could spend time "playing" online - like it was a hobby... but really, how much quality of life, real productivity and real relationships has playing online cultivated? I admit that most of the relationships I have online rarely turn into real life ones. A few do - but like high school, in the end, many of us go our separate ways.
I long to return to The Good Ol Days - BI "before Internet", and I have been making strides to do so, but it's been far more difficult than I expected. First, I had to let go of the notion that I was working and doing things to broaden my career, (online) when actually I was doing nothing of the sort. I pretended that spending hours of valuable time online, clicking on unending links and looking at websites was part of my work. Recently, I've taken time to look at the reality of my situation. Your reality may be different, but if I don't return to a healthy dose of living and working in real time and real places, I might actually go crazy.
You might be thinking... crazy is a strong word. However, when I spend too much time online, I get stupid - I can't remember diddly; I've been forgetful and have missed deadlines. (I never used to miss deadlines)! My brain can only take in so much stimuli before it starts shutting down. I get zoned in on my computer or Ipad screen and my life and responsibilities begin to slide by, while I live in a dream world by viewing what everyone else is doing. In the end, I've got to stop looking at what y'all are doing all day so I can return to my life. We artists can be sucked into feeling like we're not so much alone because we generally work in seclusion - it's downright lonely for some.
Social Media and Self-Promotion
Yes, I'm a bit of a hypocrite because I do plan on employing social media to promote my business and paintings. Most of you reading this use it too, and I think that the Internet has opened doors for many more artists to sell their work and promote their business in huge ways with very little cost. We have a lot of ways to reach new audiences for our work. I'm just saying here that I have to limit my time online so I can make more artwork, get better at it, and live a quiet life in my off hours... not connected to "the world". There is a real fear/sense that plagues many of us. It's called FOMO (fear of missing out) and unless you're one of those artists who gets several hundred likes when you post a new painting or say what you had for breakfast, you probably know what I'm talking about.
I sometimes feel that I am not measuring up to what I see online, or am missing out on the art "high life" while viewing pictures of famous artists hanging out with each other. Sometimes, I hang out with really famous artists, and I do have some wonderful friendships, but it always looks more exciting online than it is in real life. Sometimes in real life, I feel downright insecure and left out even when I'm with famous artists. When it comes down to what really matters, it's spending time with people I care about and who care about me - even though they know me and all my faults.
Summing it Up
Because I do need social media for biz purposes, how do I promote my business efforts but not turn into an addict? The Answer: Have a strategy/plan and stick to it. Check out what my friends are doing ONLY at the end of my workday... and keep it under an hour. The strategy is to post only what it important, helpful to others and interesting. I'm not famous enough for anyone to care what I had for lunch. If I have a painting for sale, or a workshop, I can post about it with a link. If I have a free art tutorial or You Tube tutorial, (future) I will post a link. But for the most part, I have to let the world of images, tweets and posts pass me by.
How does social media affect your psyche for the positive or negative? Are you good at controlling how much time you spend on it? Would love to hear your solutions for managing it in a useful way. I do think it is a positive for art marketing and connecting with other artists, so don't get me wrong. I'm interested in hearing how you manage to keep it from being too consuming of time.
Comment on or Share this Article →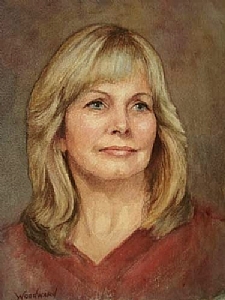 Portrait of Linda, watercolor 14x11(Ipainted for upcoming article in Watercolor Magazine)

My life is becoming increasingly busy - with writing my column in Watercolor Magazine, blogs for Fine Art Views and American Artists' online forum, an occasional article for Workshop Magazine (I'll be writing 2 this year - one on Daniel Keys and another on Stapleton Kearns), my ebooks, and last but definitely not least - my paintings.

I'm writing here this morning to let you know about my upcoming blog series for Fine Art Views which will be about Adding Value to your artwork. I'll include many quotes and conversations from my mentors, including Jack Beal, Sondra Freckelton, Nancy Guzik and Richard Schmid. Just this weekend, Richard gave us words of wisdom at lunchtime about painting what we love... getting to know everything about that subject.

Right now, I'm writing for http://artistdaily.com twice a month, but that could turn into a weekly series. My blog there is called, "The Artist's Life". I write once a week for Fine Art Views, and it is on this forum where I'll begin the "Adding Value" series. Yep, the title sounds kinda commercial, but the series won't feel that way. It's about painting for both Love and Money... with Love first and then the money following. It's about mastering our chosen medium and subject matter - it's about creating truly remarkable work "worth remarking about". Finally, it's about how it feels to be a professional artist, what to expect - what other artists both renowned and lesser known, experience in their daily pursuits.

I'll post my links to these articles on Twitter and my facebook page. You can follow either one with the following links.
Facebook Page: http://www.facebook.com/pages/Lori-Woodward/159774076315?ref=nf

Twitter: http://twitter.com/loriwords

Oh, and thanks for all your participation on both Fine Art Views and American Artist forums. It's been a lot of fun exchanging ideas and experiences.

Comment on or Share this Article →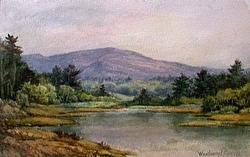 Step by step demo in WC magazine
Last month, Clint Watson, owner of http://faso.com and I talked extensively about my taking on extra duties for the company. My first reaction was that these new responsibilities would be fun, and I'd most likely do a good job with them.

But during the month of September, I felt overwhelmed with the variety of work on my plate - which led to my re-evaluating taking on additional projects. When I was younger, I worked for a computer company, and did very little artwork while there. Although I enjoyed that job and got paid very well for it, I admit that I was just putting in the required hours while my creative side was suffering. Working for the computer company was a job, not a calling.

It's been 20 years since I quit working on testing PC software and began my career as a painter. While I'd like to say that being a professional artist is easier than working with computer software, it isn't - not by a long shot. Running my own business is extremely hard work. But the good part about being an artist -- I get to nurture my God given gifts, which in turn feeds my soul. Performing tasks for "the company" wasn't nearly as satisfying.

At the present, I've embarked on a new creative career - that satisfies me even more than being a full time artist. With the Internet and blogging, I'm able to share everything I've learned from my mentors and business coaches with my fellow artists, and this work is my true calling. Those of you who know me personally, understand how essential it is that I interact with people, and although I do love to paint, spending 40 hours alone in the studio is difficult for me. Many of my professional artist friends have no trouble spending days and weeks alone, but that is not my personality has been designed.

Getting back to the work Clint and I discussed... which much thought, prayer and asking my friends' advice, I've come to the conclusion that I would be sacrificing my true calling in order to take on additional online work. Yes, I'd make good money and probably do an excellent job at it, but would I be happy?

There's only so many hours in the day, and only God knows how many days I have on this earth, so I need to consider carefully how to spend those days. It's true that if my husband lost his job, I'd have to take on some kind of daily work. For now, I put out my best quality writing and painting when I have a lot of flexibility. It's definitely difficult to be flexible and let new ideas flow when there's no time left for pondering them.

So, dear artists - when you take on work that is not related to your true calling, be aware of what you're sacrificing. No, I'm not saying to quit your day job if you need to have regular income. Once when I was giving an art marketing workshop, one of the attendees informed me shortly thereafter that he quit his job to pursue art full time. I never told him to do that! But it worked out to be the right decision for him - I'm so relieved!

By taking the time to analyze my gifts, how I truly love to spend my time and what the most important paybacks are, I've come to live a more rewarding life. When I'm not careful, I easily get sidetracked into taking on responsibilities that take time away from my calling. If these opportunities pay well, I get sidetracked sooner.

When I share info and thereby help others, I feel truly satisfied. Yeah, I know that not everything I write is helpful to everyone, but that's just the way it is. The important thing for me to keep in mind is that I must try.
Comment on or Share this Article →