This is the first of a series of online free tutorials that feature everything I know about landscape painting. I've been writing these type of articles for Watercolor Magazine, so now I'm offering similar "lessons" online, but now I have the option of illustrating my points in any media I wish - no longer "has to be" watermedia.
I'm also sending this lesson through my email newsletter, so if you're interested in receiving these tutorials directly into your email box, then sign up for my email newsletter on this site.

Variety Enhances Visual Interest

Trees should not be too uniform , and even if the tree you're painting is fairly lolly-pop shaped or uniform, it's your job as the artist in control to design a more interesting tree or stand of trees. You can do this first by making each tree in the stand a bit different in some way than the one next to it.

Variety of Color:
Unless you are a completely tonal painter, changing the color of each tree (subtle changes) helps distinguish one tree from those surrounding it. Here are some examples: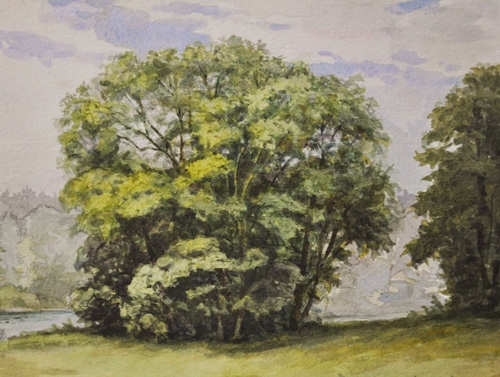 Tree Study - at Little Long Pond by Lori Woodward. Watercolor on paper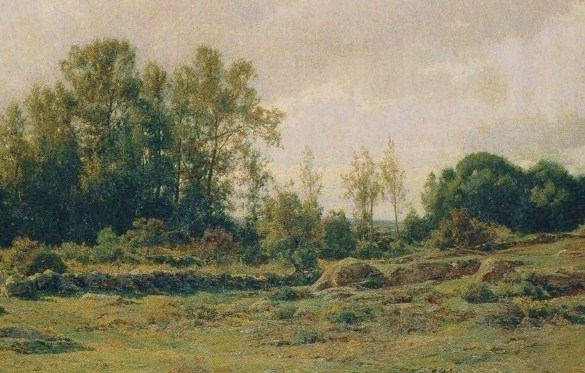 This is a segment of a painting by Hugh Bolton Jones. Notice the variations in color from deep blue green to yellow green - sometimes within the same tree. If the source of sunlight happens to be warm, where it hits the tree foliage, the color will appear warmer - more yellow. When light is warm, the shadows are cooler in temperature - here they are bluer. The darkest darks always look richer if they are a warm or red brown, but I'll discuss that in a future tutorial.

The second thing I'd like to point out about this painting example is that one can see sky holes easily in trees that are closer, while with distant trees, only the largest sky holes can be seen.

Third: the leaves at the tops of trees should not have hard edges. It's best if they look like they are delicate and able to flutter in the breeze. Things that move are soft in our vision, so making them look like concrete just won't do.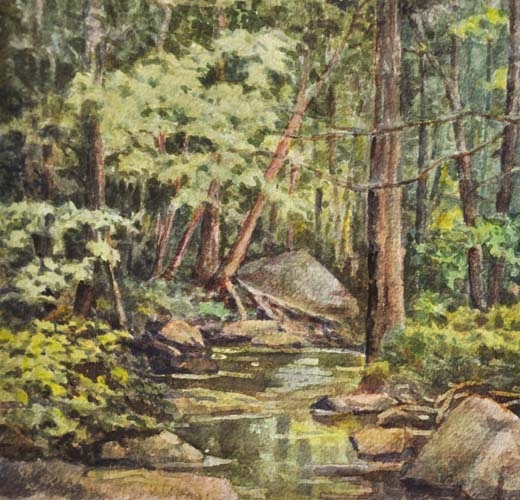 Kennedy Brook watercolor on paper by Lori Woodward.
Here, I varied the color of clusters of leaves (slightly) for interest.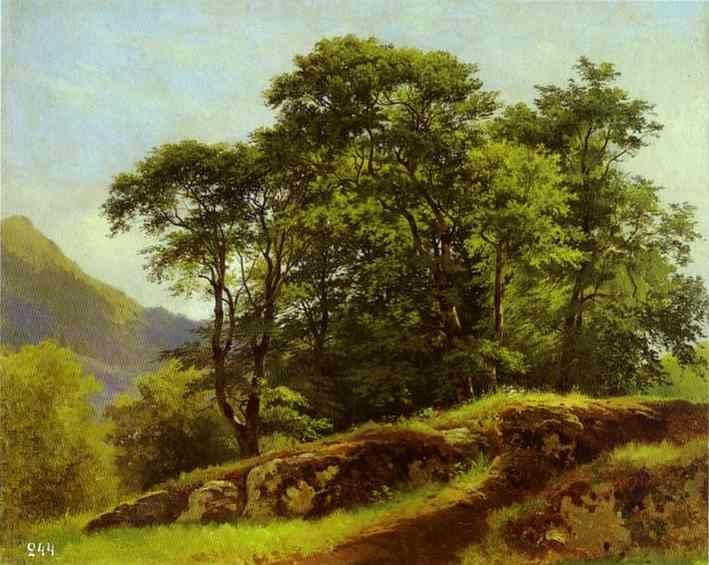 A painting by Ivan Shiskin - master painter of the past.

No lesson on painting trees is complete without an example from Russian painter of the past, Ivan Shiskin. Notice the variety of shapes of foliage clusters and variety of color.



In this watercolor by Alfred Thompson Bricher, he didn't vary the color much, but did distinguish one tree from the next by a variety in values and shapes of the outer branches.

It's difficult to paint or draw anything irregularly, but Nature is irregular . If it were any more so, it would enter in a chaotic state. I've found value in practicing sketching tree shapes and branches so that I don't make them like paper dolls - all the same shape and length with equal negative spaces in between. Just like athletes need to teach their muscles to memorize movement in order to build skill. Working in our sketchbooks so that we don't draw what we don't mean to, is often necessary.

Next tutorial: Making trees irregular. I'll later do a lesson on sky holes. There's a ton of features on trees to cover, so I expect that it'll take an entire series of online lessons to adequately cover the essentials of drawing and painting trees.


Study of a pine by Lori Woodward. Acrylic on canvas. Here is an example of a tree with lots of sky holes and irregularly shaped branch clusters.

Hope you've enjoyed this and have gained a bit of insight from it. If you have specific questions, you may leave them in the form of comments on this blog. I'll try to answer as I get time.
Sincerely,
Lori
Comment on or Share this Article →