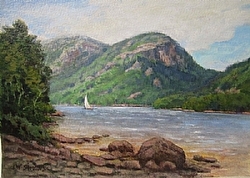 Jordan Pond, Acadia National Park
This is part two on using straight lines to block in subjects in the drawing stage of a painting.
What advantages does using straight lines afford the artist?
One, designating shapes in straight, angled lines shows us the character of the object. Two - we are less inclined to repeat similar shapesand sizes in hilltops, tree limbs, and rocks. Repetitive shapes with similar sizes are boring, and although in nature, each tree, rock and mountain crag has its own personality, for some reason, we humans have a hard time seeing and drawing the variety that is there.
Perhaps it's because nature is "just one little bit" this side of chaos... Humans build homes with straight walls - up and down, no diagonals - so that the house stands straight without leaning, so if we're not careful while drawing, we'll make all our trees perfectly vertical. In reality, trees lean this way and that, and all their limbs have different sizes and point in a variety of directions. Even in a stand of trees, each one has it's own color and character.
Here, I'll show a number of images - some are photos which I've taken, some are my sketches and others are by master artists of the past.
Below - a Sketch By Edgar Payne
Edgar Payne spent his evenings testing visual ideas using simples sketches. Notice here how he squares off the tree foliage rather than making the clusters of leaves ball-shaped. When using straight, angled lines such as these above, it's easier to give each tree individual character, making each different from the next.
Below: A photo of an inlet at Eagle Lake, and my sketch of this mountain and tree line. Instead of attempting to draw rounded lines for the mountain, I broke up each part of its perimeter with straight angled lines. It's actually easier to draw with straight lines than with curved ones. Our ability to judge accuracy of the shape and size is greatly diminished when we draw circular shapes.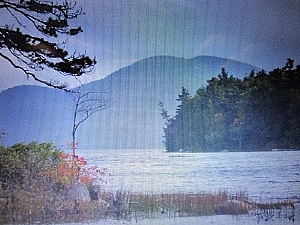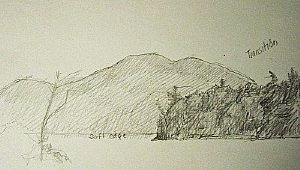 Below:In my watercolor study, I further broke up the stand of trees on the right into 2 parts
Detail: Study of Eagle Lake - watercolor on paper.
Below are two photos of The Beehive at Sand Beach. The second image illustrates how I would use straight angled lines to draw the mountain and divide the tree lines. I need to avoid breaking up the trees into equal sized segments. Again, we have the tendency to make sizes and shapes repetitive and equal. Taking time to make sure that doesn't happen during the design phase produces interesting and varied pattens.
Below: another example. Notice how dividing up the trees on the left gives them individual character while avoiding repetitive dagger like shapes.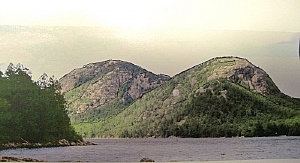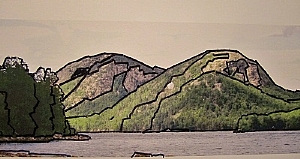 Below: Finally... I'll leave you with this beautiful watercolor by William Trost Richards, one of my favorite painters of the 19th century.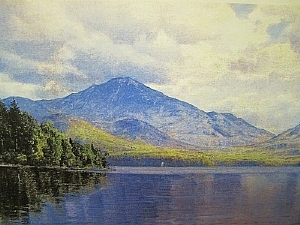 Notice how you can see individual trees on the left and angular lines that designate the shape of the mountain tops. This mountain was probably a bit more rounded than it appears in the painting - being that it is an eastern U.S mountain.
Comment on or Share this Article →