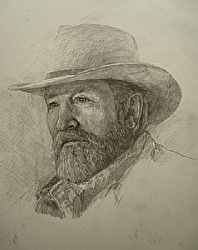 Drawing for a step by step article in Watercolor Magazine
This blog was orginally posted in Fine Art Views' Newsletter back in 2009 at the following URL http://faso.com/fineartviews/8179/getting-your-artwork-published I'm beginning to repost older blogs on my site - especially those that I think are worth repeating: So here goes!

Back in 1995, I was invited to a watercolor workshop with Sondra Freckelton. I had heard that the editor in chief of American Artist Magazine often spent a day at Freckelton's reviewing artists' work for inclusion in Watercolor Magazine. At that time, my work was in no way up to par for a magazine article, but I had a few friends whose work was spectacular, yet they had no presence on a national level, so I asked them each to give me a portfolio of their finest work - on the chance that I might show it to the editor.
I did get that chance, and the editor was indeed impressed. He then revealed to me that he had difficulty keeping up with all the articles he had to write for the magazine. I replied that I had received some awards in high school for my writing and offered to give writing a try. I added that he could take or leave the results – thereby giving him a way out if he should want to find one. Incidentally, I didn't hear back for months, and then he contacted me in early December asking if I could have the article ready in 2 weeks. I got straight to work.

The big plus for me was that the project manager for Watercolor tutored me for the length of the project, and that's how I learned to write art related articles. Shortly after that I submitted a proposal to write a series of articles (on other artists); my career as a writer began. Mind you, I did not showcase my own work until 3 years after that time... because I just wasn't yet a great watercolorist, but I am now and have my own instructional column inWatercolor. It took me 6 years to get to the professional level of painting, but I hung in there, and my efforts finally paid off.


It's a Catch 22

Getting your work featured in magazines - either the instructional kind like American Artist, or the collector's type as in Southwest Art is often of a catch 22 situation. Essentially, you need to have proven your work through sales before you are likely to get your work published in magazines and your name in the limelight. I realize that the last statement is disappointing, so let me add that it is certainly possible. If I could do it, you can too. Take into account that my artwork was not worthy of publication for a long while. All artists were beginners at one time. I've heard it said, "Life is Short, Art is Long".


Is Your Work Worthy of Publication?

How do you know if your work is good enough for publication? Well here are some credentials that are normally in place for those artists who are featured. I'm sure there are exceptions, but the basic rule is that you need to have a bevy of collectors before your work gets featured. That's why I say it's a catch 22 situation.

Ask yourself the following questions. The more you are able to say YES, the better your standing with publishers will be.

1. Are you currently selling lots of your work on your own or through galleries?

2. Has your work been accepted into national juried competitions. If you've received an award, that's even better, but just getting acceptance is a great credential.

3. Do you have a consistent, recognizable style. In other words, all your art looks as though it was created by the same artist. If your work is "all over the place", it will be hard to write an article about it. Sure it takes a few years to develop a style - a thread of similarity throughout your body of work. No one said this was going to be easy. You've heard it said before - it takes time and hard work.

If you take an honest review of your work and can answer yes to the three questions above, then you may be ready to submit an article to a magazine publisher. Just a side note: While I have written for magazines such as: American Artist, Workshop, Watercolor, and International Artist, I have no experience writing for art collector magazines such as Southwest Art and their competitors. Art collector magazines are more difficult to get your work published in - You see, those publications are interested in selling advertisements. For those magazines, it's helpful if you're represented by a number of galleries; the editors will likely contact your galleries and ask that they buy ad space. If one of your galleries decides to pay for a cover ad, you can be relatively sure you'll get a feature article.

I cannot recommend artists to magazine editors, so please don't send me email or ask how I can get you a space. Remember, I wrote about other artists for years before I was allowed to feature my own work. I'd quickly become a nuisance with editors if I were to start sending them recommendations. You'll need to follow the same protocol that every other artist does. I believe that if you visit the prospective magazine's web sites, there will be a section on submitting articles.

On the other hand, here is what I recommend at my art marketing workshops. If you're a decent writer and have answered yes to the questions stated above, go ahead and begin writing articles. If you approach a magazine with a well written, finished article that has outstanding images and a step by step demonstration, your chances of getting published goes way up. I say "chances" because acceptance is at the discresion of the editor.

For my next blog: I'll make suggestions on how to begin writing an an article for publication. Until then, keep making your best art. And, by the way, it usually takes me a solid week - about 50 hours to photograph images and write a polished draft. Please wait for next blog before you start writing...I happen to know what irritates editors, and I wouldn't want you to waste time writing content that is going to hurt your chances. I'll leave you with one final fact: you'll need to be an agreeable and fun person to work with. Even if your work is outstanding, if your have an air of arrogance, you'll likely get turned down for publication.

Sincerely,
Lori
Comment on or Share this Article →